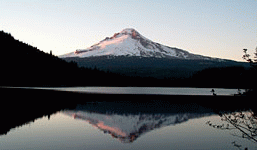 The 2012 Meeting of the Division on Dynamical Astronomy will be held 6–10 May 2012 at the Timberline Lodge [1], Mt. Hood, Oregon.
The annual DDA Meeting brings together top researchers in astronomy, astrophysics, planetary science, and astrodynamics for in-depth and stimulating discussions and talks on all aspects of dynamics in the space sciences. The DDA meeting features invited talks on a range of topics, contributed talks (with no parallel sessions), and posters that can be displayed throughout the entire meeting.
Sponsors: Colorado Center for Astrodynamics Research [2] & Celestial and Spaceflight Mechanics Laboratory [3]
Press Contact: Rick Fienberg [4]
Transportation
Wayne Hayes has set up lists of people interested in carpooling to [5] or room-sharing [6] at the Mt. Hood Meeting. E-mail him [7] to be added.
Al Harris reports that the room block at Timberline is closed, and also filled. The next best hotel lodging I have located is Best Western Mt. Hood. This URL takes you directly to the Best Western reservation page for that property [8] As of April 23, they have rooms available at $109/night. The town of Government Camp, where it is located, is ~5 miles from the Lodge, so a car or carpooling will be needed. There are a number of other lodgings in Government Camp.
Deadlines
Student stipend applications [9]: Midnight EST, Friday, March 9, 2012 (UT-5:00) (Winners) [10]
Abstracts: 11:59 PM EDT, Monday, March 26, 2012 (UT-4:00)
To give a presentation at the Mt. Hood Meeting, you must submit an abstract (300 word limit) through the AAS/OASIS abstract form. You may present two papers as long as one is oral and the other is a poster.
Submit the abstract(s) to AAS through this web page. [11]
Click on "Access DDA abstract form".
Posters should be less than 48 inches x 32 inches
Early Online Registration [12]: 11:59 PM EDT, Friday, April 6, 2012 (UT-4:00)
Press Registration: Email Debbie Kovalsky [13]
Registration Rates
Member Type
Early
Late/On-site
DDA Members
$375
$400
Students and Emeritus members
$275
$300
Non-Members
$400
$425
Conference Banquet on Tuesday, May 8: $65 per person
Click here to find out how to register. [12]
Hotel registration at our discounted rate: 11:59 PM EDT, Friday, April 6, 2012 (UT - 4:00) *FILLED* (see above)
(Discounted rooms available for the evenings of Sunday May 6 through Thursday May 10.)
Discounted Room Rates
Chalet Room
$85.00 (plus 7% county tax)
Twin Room
$105.00 (plus 7% county tax)
Queen/Twin Rooms
$134.00 (plus 7% county tax)
To access these special rates call the Timberline Lodge at 1-800-547-1406 (between 9-5 PDT) and refer to the "American Astronomical Society".
Meeting Schedule
Sunday, May 6:
4:00-6:00 pm, DDA Committee Meeting
6:00-8:00 pm, Welcome Reception
Monday, May 7:
8:00 am-Noon, Exoplanet Session
1:40-4:00 pm, Planetary Formation Session
4:00-5:00 pm, Brouwer Award Lecture
5:00-6:00 pm, Brouwer Lecture Reception
6:00-7:30 pm, DDA Business Meeting
Tuesday, May 8:
8:00 am-Noon, Rings Session
1:40-4:20 pm, Planetary Formation Session
4:20-6:00 pm, Poster Session
6:00-8:00 pm, Banquet (additional charge)
Wednesday, May 9:
8:00 am-Noon, Galaxies Session
2:00-6:00 pm, Asteroids Session
Free Evening
Thursday, May 10:
8:00 am-Noon, Satellites and Obliquities Session
Invited Speakers
Lia Athanassoula [18] (Observatoire astronomique de Marseille-Provence)
Galactic Dynamics (Brouwer Award) [19]
Matija Cuk [20](SETI Inst.)
Dynamics of Multiple Moon Systems
Matthew Hedman [21] (Cornell U.)
Dynamics of Dusty Rings
Soko Matsumura [22] (U. Maryland)
Dynamics of Exoplanets
Rachel Kuzio de Naray [23] (Royal Military College of Canada)
Velocity Fields and Dark Matter Halos
Student Stipend Award Winners
Christa L. Van Laerhoven (Advisor: Rick Greenberg) - University of Arizona
Secular Dynamics of the Kepler-11 System
Erika Nesvold (Advisor: Marc Kuchner) - University of Maryland, Baltimore County
A New Method for Modeling Collisions in Debris Disks
Nathaniel Hamlin (Advisor: Bill Newman) - University of California, Los Angeles
The Role of Magnetic Fields in Relativistic Astrophysical Jets
Local Organizing Committee
Daniel J. Scheeres [24] (University of Colorado Boulder)(chair)
Alan W. Harris [25] (Space Science Institute, chair)
Douglas P. Hamilton [26], University of Maryland
Program Committee
Douglas P. Hamilton [26], University of Maryland (chair)
Alice Monet [27], US Naval Observatory (retired)